Meet the Doctor
---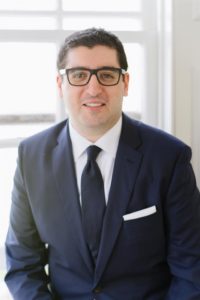 Dr. Ali Taghipour has diligently worked to build a solid reputation as an excellent dentist and dental surgeon in Lakeview, Chicago. His years of training and experience will readily benefit every member of your family. He is qualified to provide general dentistry, surgical dentistry (including complete in-house implants from start to finish and impacted wisdom teeth removal), endodontic services (root canals), and cosmetic dentistry services to his patients, virtually eliminating the need for countless referrals and having to visit multiple doctors to complete a treatment plan.
After receiving his doctorate in dental surgery from the University of Illinois at Chicago in 2007, Dr. Ali went on to attend a post-doctoral internship where he received training in oral maxillofacial surgery, attended to patients in both hospital and clinical settings, and obtained invaluable experience in the surgical field.
Dr. Ali has been committed to continue learning about cutting-edge dental techniques in order to improve services for his patients. The high quality dental technologies offered at Sky Dental, including a state of the art Cone Beam CT scan, Cerec same day crowns, all digital imaging and record taking, combined with a modern yet welcoming office setting, ensure that you will have a pleasant and efficient dental visit.
When Dr. Ali isn't in Sky Dental helping patients, you can often find him in the actual sky! Dr. Ali is an avid pilot who has been flying for about 8 years. His flights range anywhere from short local flights to long international ones. He loves taking friends and family up for a flight and sharing his passion for aviation. One of the most rewarding things he does with his pilot's license is combining his passion for flying with his love of animals. He is a volunteer pilot for Pilots N Paws, an organization that helps with the transportation of animals to their adoptive families.